Sweetshop coffee – where to find the widest range of beans
Phil Wain is excited by the wide range of roasts available in some coffee shops – here, he shares the best places to stock up to ensure variety in your home-brewing
I remember going to sweetshops and toyshops as a kid, it wasn't necessarily that I wanted everything but I did want to look at everything. And if I got to see a toy or sweet I hadn't seen before then that was exciting. Later on, I got the same feeling in record shops (remember those?) browsing through endless vinyl in search of new sounds…and these days it's cycle shops, bakeries, farmers' markets that bring back that sense of being a child in a sweetshop for me.
Recently though, I've been getting that kid in a candy store feeling in a few coffeeshops. While some cafes might display a few bags of beans from their coffee roaster, and others a fuller range, increasingly often select coffeeshops are offering a wider range of coffees from a range of roasteries. Of course, this 'sweetshop' approach relies on sufficient retail turnover, roasted coffee doesn't have the longest shelf life…but it also encourages retail sales too.
So. Where can you go and enjoy the sweetshop coffee retail experience?
London's speciality coffee hub, Prufrock, is always a great spot to experience coffee from a range of roasters whether brewed or in the extensive retail selection. It's especially worthwhile for European roasters which are often to be found on the shelves such as Koppi and La Cabra.
23-25 Leather Ln, London EC1N 7TE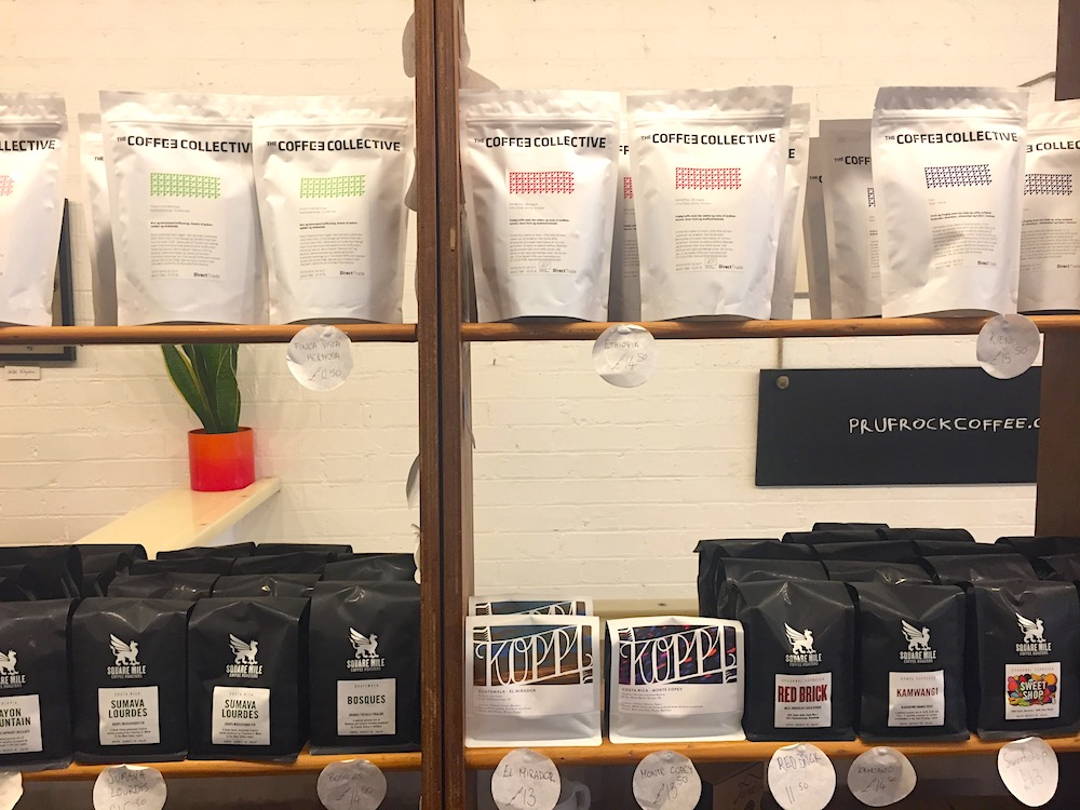 Curators Coffee Gallery and Studio
Curators Coffee always have a range of guest roasters' coffee on the shelves in their attractive retail display. As well as Colonna beans and pods you will always find a range of coffees such as Tim Wendleboe and Square Mile.
Curators Coffee Gallery, 51 Margaret Street, London, W1W 8SG
Curators Coffee Studio, 9A Cullum Street, London, EC3M 7JJ
Society Café (Bath, Bristol and Oxford)
Society's classy coffeeshops have a range of retail, currently including Origin Coffee Roasters, Round Hill Roastery, The Barn and Colonna.
4&5, Kingsmead Square, Bath, BA1 2AB
19 High Street, Bath BA1 5AJ
Farrs Lane, Narrow Quay, Bristol, BS1 4BB
12-16 St Michael's Street, Oxford OX1 2DU
If world class patisserie and coffee were not already enough of a draw, Shoreditch based Sans Père also have a retail coffee selection, currently stocking Berlin's Bonanza, Cornwall's Origin and Belfast's Bailies Coffee.
Surely one of the market leaders in multi-roaster speciality coffee retail, Sourced have a range of guest coffee on filter as well as shelves always stocked with a wide range of guest roasters' beans. Regularly, you'll find coffee from Colonna (including pods), Origin, Mission Coffee Works, The Barn and others. Head of coffee, Federica (Fred – the subject of a future feature from us) ensures a range of great beans are available.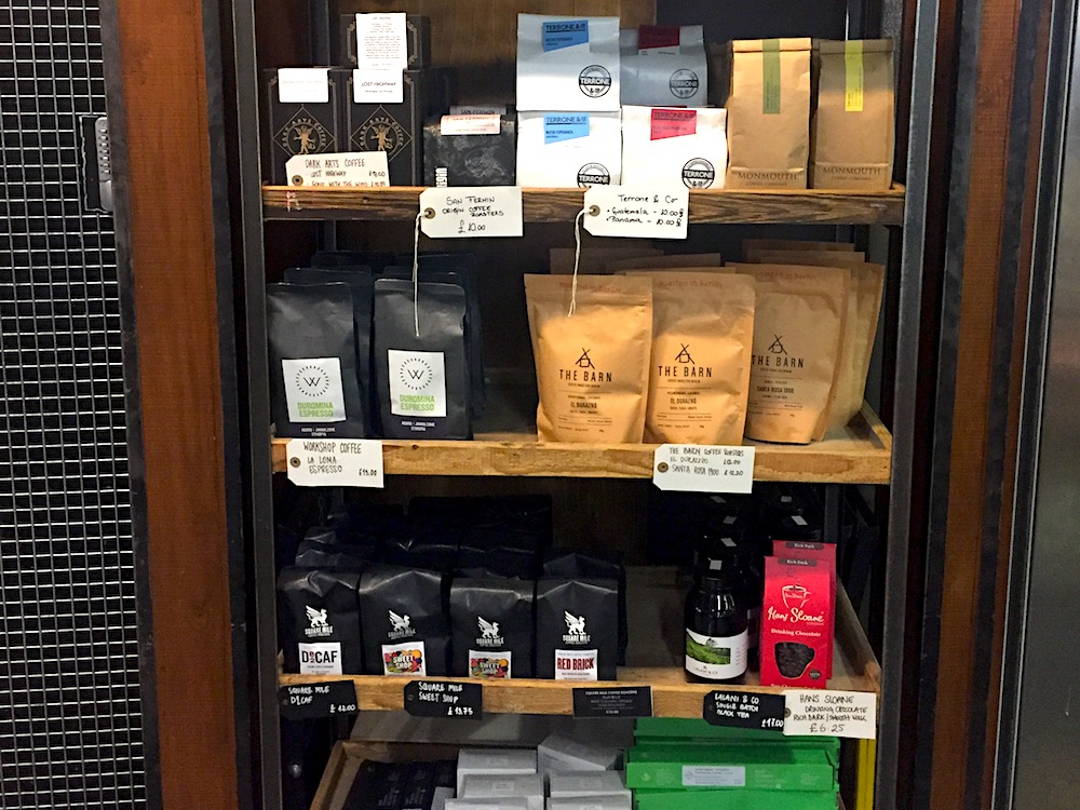 Perhaps one of the widest ranges of guest coffee on filter, social enterprise Second Shot, who work to tackle homelessness also have a range of beans on retail. Follow @london_barista on Instagram for details.
See also
Kapow Coffee, 44 The Calls, Leeds LS2 7EW
BLK Coffee 214 Chillingham Rd, Heaton, Newcastle upon Tyne NE6 5LJ
Hard Lines Coffee, Castle Emporium, Womanby Street, Cardiff CF10 1BS
Fortitude Coffee 3C York Pl, Edinburgh EH1 3EB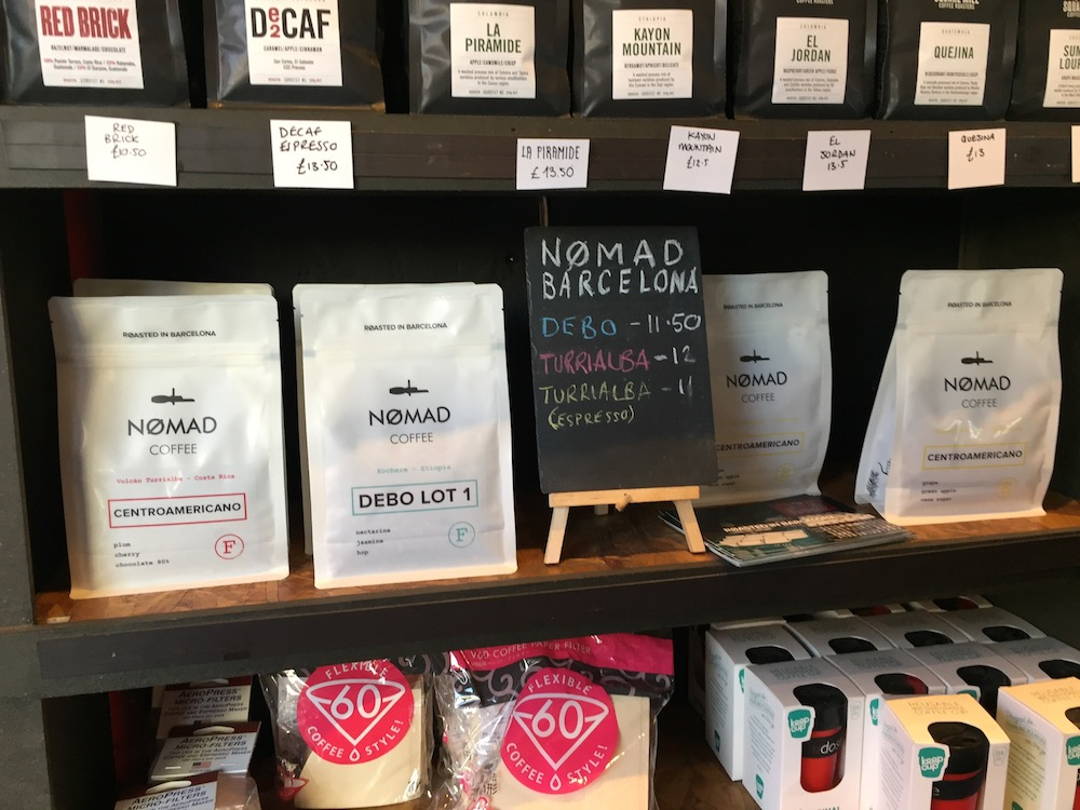 In addition, a number of cafes have guest roasters, and feature the guest roaster on both filter (and sometimes espresso) as well as having beans for retail.
Association Coffee, 10-12 Creechurch Ln, London EC3A 5AY and 56 Ludgate Hill, London, EC4M 7AW
Store Street Espresso, 40 Store Street, London, WC1E 7DB
Black Chapel, 1 Chapel Yard, London, SW18 4HZ
Dose Espresso, 70 Long Ln, London EC1A 9EJ
Ancestors Coffee House 1LE, 27 Magdalen St, Norwich NR3
With thanks to Brian Williams of Brian's Coffee Spot for some recommendations for this article