Best Coffee Beans Subscription Box - Espresso
Save

Liquid error (product-badge line 32): Computation results to '-Infinity'

%
Get 40% OFF your first month.
Use code SUB40 at checkout.
Keep it interesting with our Best Coffee subscriptions. Get a monthly delivery of carefully chosen coffee beans delivered straight to your door each month. It's like having a friend recommend a different, delicious coffee each month. With the added bonus that we're certified, bona fide, super-qualified coffee experts – enjoy!
1kg of specialty coffee. Whole beans. Best suited to espresso coffee.
Free delivery on subscription.
Skip, change or cancel your subscription anytime.
Get rewards when subscribing.
Best Coffee have been responsible for matching our app users to great coffee shops since 2012, becoming one of the leading guides for specialty cafés in the UK. So you can trust that we're dedicated to only delivering the best coffee.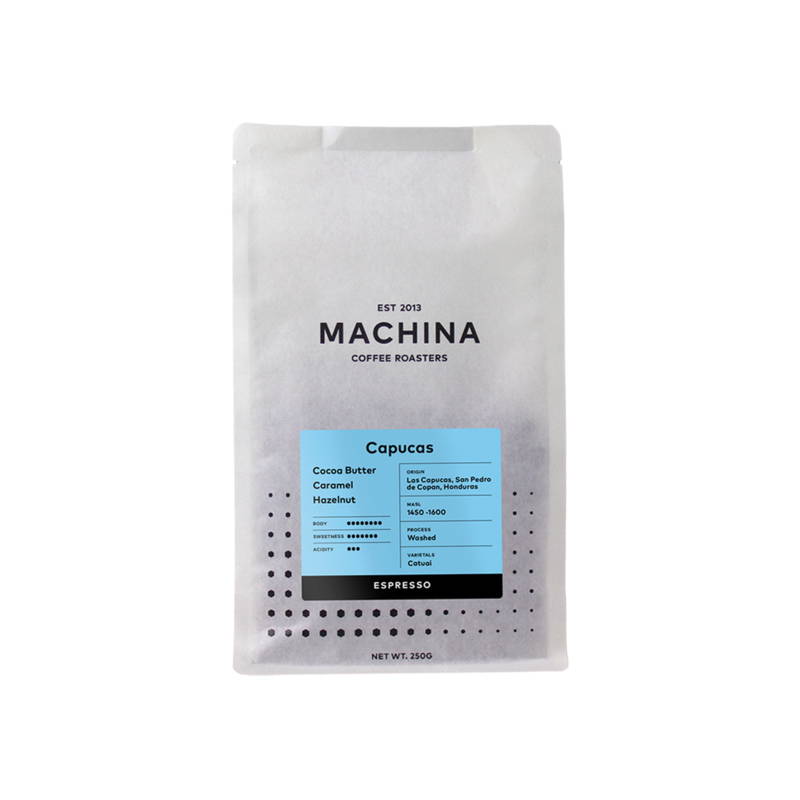 Machina Coffee - Honduras Capucas Bird Friendly - Washed (Organic) Espresso Beans - 1kg
Capucas is a real find and showcases why Honduras is fast beoming one of our favourite origins. A washed Honduran of the Catuai varietal, produced by Cooperativa Cafetalera this is a rich, sweet and low acidity espresso, to be enjoyed by all, across a range of coffee drinks and brew methods
Tasting Notes: Cocoa Butter, Caramel, Hazelnuts
Location: Las Capucas, San Pedro de Copan, Honduras
Varietal: Catai
Elevation: 1450-14600 MASL
Process: Washed
The farmers / Cooperative:
Cooperativa Cafetalera Capucas Limitada (Cocafcal) or Capucas as they are better known, is situated on and around the Celaque mountain, which is the highest peak in Honduras. Capucas was founded in 1999 by Jose Omar Rodriguez and takes its name from the local town of Las Capucas. In 2004 Omar was chosen to become the general manager, a role he continues today.
The cooperative has many initiatives to improve the lives of workers and the local community, for example; they pay for a GP to treat workers for free in their health centre which is in the centre of Las Capucas. In 2016 Capucas partnered with the National Autonomous University of Honduras (UNAH) to provide a university education, the virtual classroom was opened in the community of Capucas in a rural part of San Pedro Copan, UNAH provide the technical support, teachers and subject matter for the students. They also have a football academy which is free to join and a virtual library for members, children and partners of Capucas Cooperative.
Picking and processing:
The coffee is harvested at its optimum ripeness and handed in at the cooperative. It is then washed, dried in a solar dryer, and stored in parchment before being trucked to the port of Puerto Cortés. Capucas were the first in the country to build a facility to dry micro-lots in a large scale with solar dryers.
Coffee trees are pruned to a low height so it is easier to pick the cherries, however if its cut too short too soon they fall over. Therefore, the pruning is staggered: in the first year they prune to 180cm, 170cm in the second year, 160cm third year and 150cm in the fourth year; then when the tree is cut down to the bottom, the trunk is strong enough to support the new growth.
Socio-economic benefits:
This coffee (similar to our Mexican Huatusco) is another case of regional coffee, that in our view, offers much more positive socio-economic benefits to those involved in the growing, processing and exporting (the supply chain) of the coffee than many single estate OR micro lot coffees do. This is a good thing. Why should coffee only be considered quality or traceable, just because you can reprint the farmers name? More often than not, regional coop lots are produced to exceptional levels of quality, with the farmers being located next to one another, offering a near identical profile, with the actual coffee itself being processed at the same location and under the exact same standards.
Regional Vs Single Estate: It's sometimes a nice story to hear about a single farms efforts to create a beautiful crop of coffee, in a single varietal, with a focus on quality processing and dedication for excellence. However, it is much more common to buy what is referred to as a regional blend or lot (such as this one), where numerous smallholders benefit from a collective effort, sometimes supported by a coffee exporter, charity or NGO. It is this scenario there is a much higher level of positive socio-economic benefit being created, and those who often struggle to generate a decent / fair income through coffee farming can be the true beneficiaries. An example of a coffee supply chain in positive effect.
The area:
Las Capucas is the highest point (masl) in the whole of Honduras around the Celaque Mountain. Celaque means 'box of water' in the local Lenca language, and the mountain is the source for many rivers and streams. This is located within Copán, which is famous for being an archaeological site of the Maya civilisation. The area is a fertile valley with altitudes of up to 2400 masl, making it a great location to grow coffee, as well as tobacco and fine cigars.
Location:
Las Capucas is a small town in the municipality of San Pedro de Copan, in the department of Copan (one of 23 departments in Honduras). This is in the far West of the country, not far from the borders of Guatemala and El Salvador.
How the Subscription Works
What we do:
Our coffee experts seek out & hand select the very best coffee for you to try. We do the research & the hard grind, so you don't have to.
We send out a new, exciting range of specialty coffees for you to try each month.
What you do:
Sign up to our totally flexible subscription service, knowing you can cancel or take a holiday at any time – you're in complete control.
Wait eagerly each month for you new coffee to arrive in the post.
Enjoy!
Coffee With a Conscience
It's not enough for the coffee to just taste good, we believe it has to do good too.
We're selecting our coffees with a conscience, based on a few very important principles:
Coffee sourcing model & coffee traceability
Community support. Both at origin and point of consumption
Recyclable packaging
Other environmental & social initiatives
How often do I need to pay for the Best Coffee Beans Subscription and when will I be charged?
The Best Coffee Beans Subscription ships monthly and the billing will be recurring every month. Your first payment happens the day you purchase your box and subsequent payments will automatically occur on the same day of every month, starting on the second month of your subscription.
You can change the charge date by logging in into you account via the "Account" menu on our website.
Can I change the speciality coffee beans quantity on my box?
The minimum quantity of coffee beans bags on offer at the moment is one 1kg speciality coffee bag inside our Best Coffee Beans Subscription Box.
Can I select the coffees in my Best Coffee Beans Subscription box?
Our team of coffee experts will curate the best possible coffee beans available. We have been visiting and reviewing the finest speciality cafés in the world since 2012 and working closely with coffee roasters and speciality coffee capsules pioneers for years.
So we are obsessed about finding the best coffee beans and will always deliver only the best of the best to our loyal subscribers.
Can I change the frequency of my deliveries?
Yes. We currently offer frequency of 1 and 2 months. To change your frequency after subscribing, simply login to your account via the "Account" menu on our website. Select "Manage Subscriptions", then click on "Edit" (below "Actions"). On the Edit screen, select "Change delivery schedule".
Can I cancel my subscription?
Yes. Simply login via the "Account" menu on our website and click on "Manage Subscriptions". Select "Cancel" under "Actions". Moving forward, your credit card will not get billed.
If you would like to re-activate your cancelled subscription, simply click on "Re-activate".
Is delivery included in my coffee subscription?

Yes, our coffee subscription has free shipping. For the other coffee beans in our shop, we offer free shipping for orders over £50.
Will the coffee beans subscription box fit through my letterbox?
Unfortunately no. Since we will always deliver different coffees, the box size will inevitably vary from delivery to delivery. The subscriptions ship as a Royal Mail small parcel and won't fit through a standard letter box.
I had issues with the shipment and/or I didn't enjoy the coffee. Can I send it back?
We hope you love the coffee we send, and unfortunately at this moment in time we're unable to accept returns on perishables. If you have any problems with your order please get in touch with us at hello@bestcoffee.guide and we'll try our best to help