Hand-painted cups, by Gosia
Sometimes something a little different catches our eye in a café – a personal touch here or there – something out of the ordinary. Such a moment occurred when we visited Bespoke Cycling's coffeeshop off Gresham Street. This coffeeshop, already far from run of the mill, serves up great Workshop coffee and is now home to award winning latte artist and all round likeable coffee chap Mridul. But what really stuck out were the cups, hand painted by Malgorzata Bialoglowska, who everyone calls Gosia. Most coffeeshops have crockery very similar to every other coffeeshop, but at Bespoke, every cup is, well, bespoke, often with a cycling theme and dominated by blue and purple tones.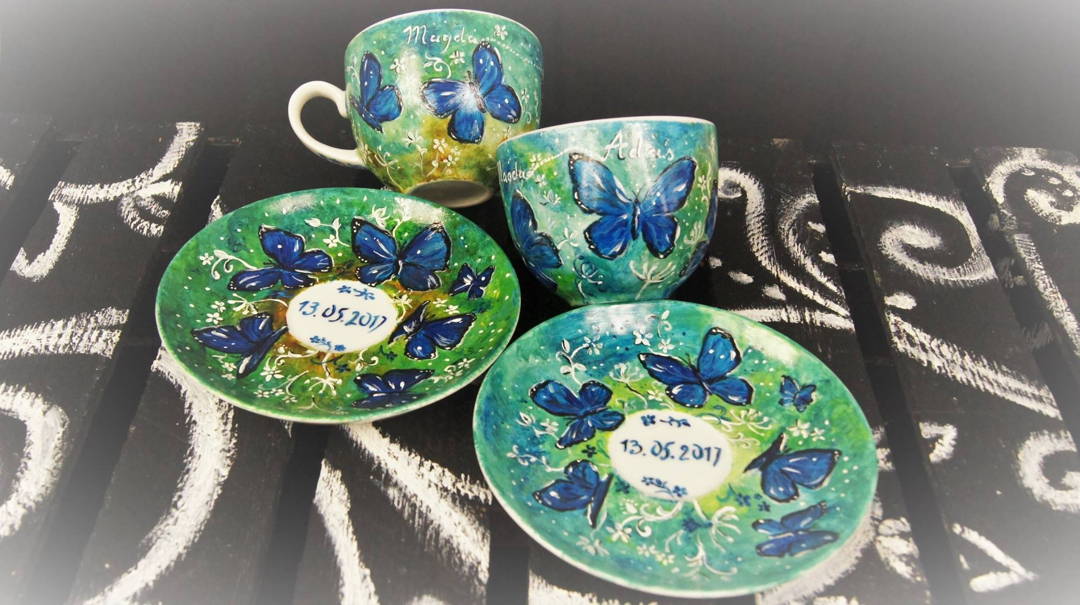 It's clear how thoughtfully Gosia matched the cups to Bespoke. Many of Gosia's projects are highly personalised: a recent project was a series of six cups showing the story of a couple's relationship leading up to their marriage. Gosia lives and paints in Gdansk, on the Northern coast of Poland – she was born in Gdynia, just to the North. Gdansk is known as an artistic and cultural hub and Gosia runs an art collective there (Kolektyw Artystyczny). Her work involves painting on china and canvas and graphic design projects, but working with children at the "Centrum Reduta" day centre is also a rewarding and important part of her day. She works with teens from unfortunate or disadvantaged backgrounds, offering social and therapeutic support. These opportunities offers a chance to teenagers to express their creativity and allow it to grow.
A few years back, they founded the cultural magazine (Kwartalnik Mrowiskowy Magazyn Kulturalny) edited by teenagers linking the centre with social events in the community. In addition, Gosia directed the Kids Retro Festival Gdansk, runs craft markets in her spare time, and helped create the Social Garden, a venue for cultural events. Another passion is writing children's stories, unfortunately as yet unpublished.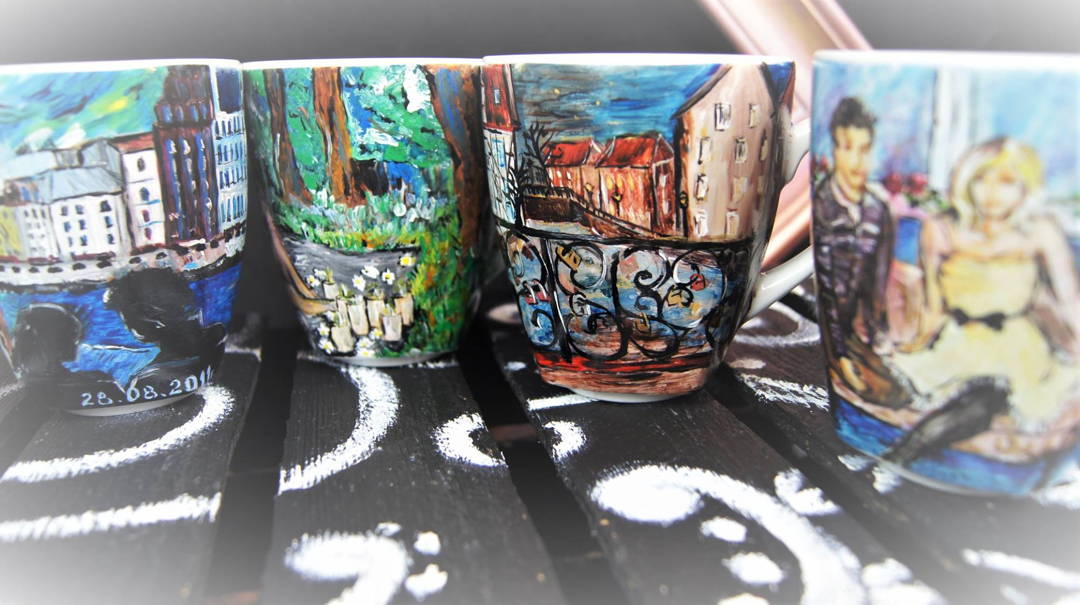 Gosia says she's mostly inspired by daily life activities: movies, music, or sometimes just by hearing conversations or the voices of people. She believes inspiration is life itself; she is inspired by beauty, but flawed, real beauty – full of defects but full of potential. It's an inspiration that flows through her work, and we love it.
If you are interested in buying her bespoke, hand-painted china for your business or home, you can contact Marius at Bespoke or via Marius.Ramba@gmail.com. Gosia can respond to large or small orders, and the cups are dishwasher safe, but be aware that the hand painting process can take up to five hours per cup.
You can find Gosia's work on Facebook, on Instagram, and on her own website. You can also follow her on Twitter