The Scottish Aeropress Championships 2017
Competition coffee is a big deal. Here, Harry Harris, Best Coffee's man north of the border, takes a look at the Scottish Aeropress Championships, 2017, which happened this week
I am stood in The Dissection Room of Edinburgh's southside arts hub, and former Veterinary College, Summerhall, and just in front of the stage are two grinders, two water boilers, and five tables. A month ago during the Edinburgh Fringe, that stage was filled by late-night DJs, experimental metal, post-rock, pop-raves - tonight, all that plays second fiddle to coffee. This is the Scottish Aeropress Championships, 2017.
While it may be tempting to put this event down to one of the UK's regional, unexplainable quirks, like bog snorkelling or cheese rolling or supporting Tottenham, Aeropress Championships have actually been running all over the world for nearly a decade, actually originating in Oslo in 2008. Now run by a team in Australia, it's a pretty big deal – sixty countries get involved, thousands of brewers apply, and there's a big final, this year in Seoul. You don't get that with Cheese Rolling.
"The room begins to smell incredible – warm and roasted and chocolatey"
The initial heats take place during the day, with 36 competitors from around Scotland's indie coffee scene - and some home-brewers too. Local names like Cairngorm Coffee, Cult Espresso, Hyde & Son are all familiar, but others from further afield jump out too – Glasgow's much loved Kaf, North Berwick roasters Steampunk are represented, Zest from St Andrews. Judges are local too – Machina, Fortitude and Williams & Johnson are on cupping duties, and also developed a special blend of their own roasts for the competitors to use in their brews.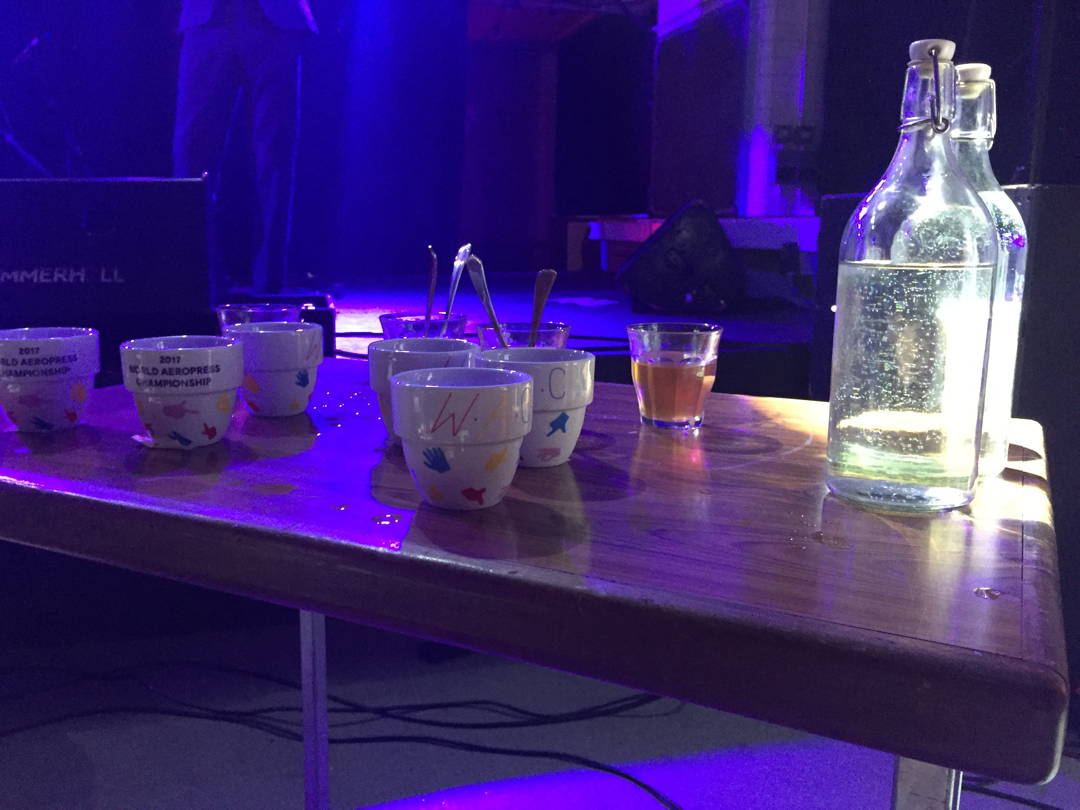 A note on "cupping", briefly. Cupping is the method by which the coffee will be judged, and to watch it take place is almost incomparable. Essentially it's the same as any kind of food or wine tasting, in that you take a small amount, move it around your mouth, and spit it out, before rinsing and then moving onto another taste. It is immediately surprising how far the noise of a slurp can carry. Even in a pretty busy, 300 capacity room, with a DJ playing, the slurps and slooshes of the judges really cut through – it takes a bit of getting used to, and if you're the kind of person to be annoyed by noisy eaters, you're gonna have to take one for the team.
"Aeropress is very versatile, the different ways you can do it is quite staggering, and it's a good laugh."
So the initial 36 are whittled down to two semi-finals of six people each – Machina, Rialto, Brewlab, Engineering Coffee, Cult, Milkman, three people from Cairngorm, and three independents, have made it to this stage. It must be noted that Brewlab are hosting the event, and as mentioned Machina are on the judging panel, but the cupping is done blind so there's no stench of foul play here. Corruption has not infiltrated the Aeropress Championships. The rounds are speedy - eight minutes, to be precise - and when the clock hits, it's all go. Beans are getting ground, temperatures are checked, people dance – nobody seems to be taking themselves too seriously, and honestly, it's actually quite hypnotic. Also, the room begins to smell incredible – warm and roasted and chocolatey. Harness the smell in that room, turn it into a candle, get it out by Christmas. There's no such thing as a free lunch but the first person to do that is riding the Candle Pound all the way to the moon, no question.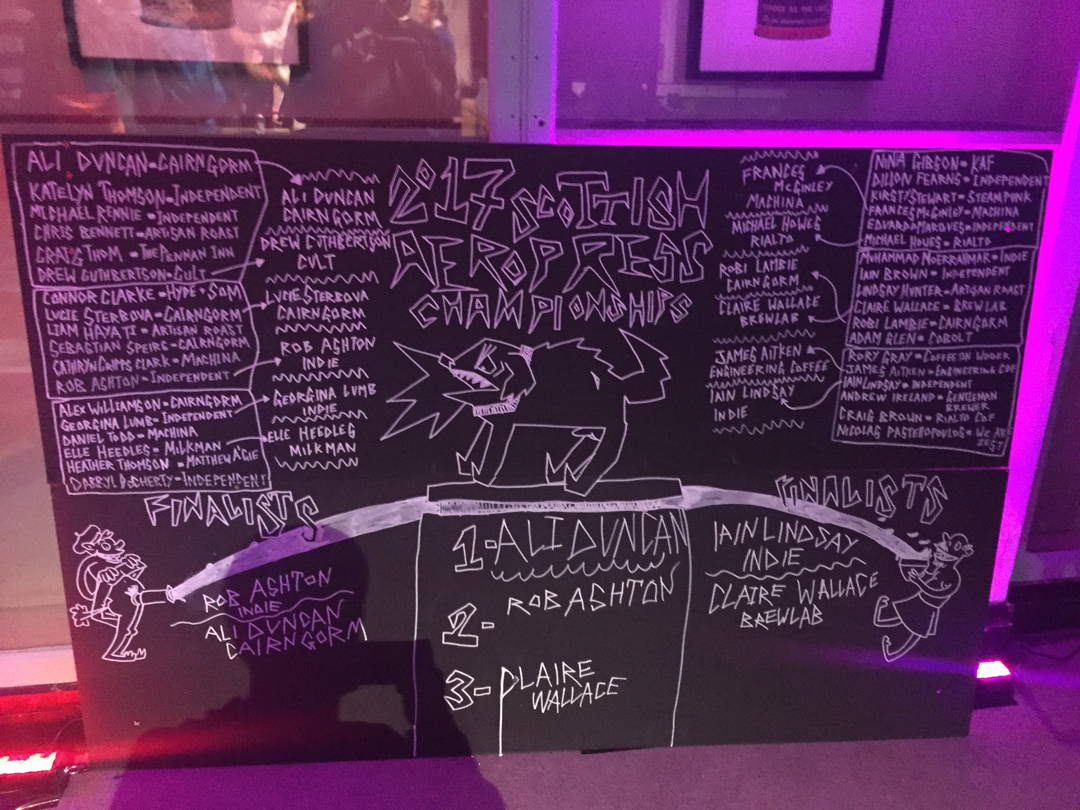 The eventual winner, perhaps unsurprisingly given the numbers that they put forward for the crown, comes from Cairngorm – it is Ali Duncan who'll be heading to Seoul. Brewlab's Claire Wallace takes bronze, while independent Rob Ashton – who spent his whole brew time dancing and taking selfies with the other contestants – heads home with the silver Aeropress. "I did it last year but bombed out straight away because I did a comedy routine," he told me after. "This time was slightly less of a comedy routine. Aeropress is very versatile, the different ways you can do it is quite staggering, and it's a good laugh."
A lot of the time people on the outside of the coffee industry – and indeed, the food industry in general – can think it can get a little high and mighty. Why care this much about a drink? The backlash to the growth artisanal coffee shouts out words like pretentious and hipster, feels aggrieved that you know the difference between a flat white and a latte, longs for a simpler time, when everything was more black and white. There's a definite self-awareness on display tonight that plays up to that stereotype, but, also, challenges it. You can be serious without taking yourself seriously, and you can have fun while doing something quite challenging and technical, working with good ingredients, and a good piece of kit. How Scotland does in Seoul? Given Cairngorm's reputation in the city – with two busy sites in the New Town and West End of Edinburgh – you'd have to say Mr Duncan is a contender, but really, everyone here knows their stuff. If every attendee discovered a new place to get a cup of coffee after tonight - Aeropress or otherwise - then it's hard to spot a loser. Except this writer, who gamely entered the accompanying Avocado Toast eating competition, and did indeed, despite eating two full avocados in a short space of time, lose. I am a loser, the coffee is not.
Harry Harris is a writer from Wales, based in Edinburgh. His work has appeared on Eater, MEL Magazine, Nylon and in the football magazine Mundial. He is also the host of Eating Podcast, and is a former barista at Bea's of Bloomsbury. To see Harry's Best Coffee in Edinburgh, download the app now.