A guide to craft chocolate - part 3
Having cast his eye over the background to and sourcing of craft chocolate, Phil Wain now looks at where to find out more about the subject. If you haven't yet done so, you can read part 1 and part 2 first
So What Do We Recommend
Look for bean to bar chocolate with minimal ingredients. Listen for snap as you break the chocolate, let it melt in your mouth and see how the flavours develop. Chocolate should melt at human body temperature so let it melt on your tongue. Cocoa Runners have tasted over 5000 craft chocolate bars from all over the world and stock a wide range of chocolate which is available online. Look out for selections of their bars for retail in cafes such as Sourced Market, Prufrock and Curators.
Spencer Hyman of Cocoa Runners gave us his advice, "Look at the label. Less is more. There should just be cocoa butter, cocoa mass, sugar and milk if it's milk chocolate. If you see ingredients other than these, think again. If you see ingredients you, or your grandmother, wouldn't recognise look again. Look for name of farmer, farm or estate – be wary if it just says "country x" and "percentage Y".  Look for details on how the bar has been crafted, for example how long a bar has been conched, how big a batch size, which year the beans were harvested and/ or crafted.  Also look for where the bar has been made (many bars won't say which should flash some warning lights)."
"If the bar costs less than say £3-4 be aware that you are probably buying a bar that is remoulded and its flavour will be more about additives than in coaxing flavour from rare and awesome beans whose cultivation also helps preserve rainforest, indigenous peoples etc. Visit your local speciality coffee stores and ask the barista for a small batch, single estate bar that they think tastes great.  If you are really lucky they may also be a Chocolate DJ – so able to advise you on, for example, which chocolate bar will complement your taste in coffee too."
Cocoa Runners supply Original Beans' superb hot chocolate buttons to Prufrock, Colonna & Smalls and The Espresso Room. They also supply Browns of Brockley and Out of Office Coffee with hot chocolate from Menakao which is grown, processed and manufactured in Madagascar. Craft chocolate is never 'Dutched' (washed in an alkaline solution). We'd recommend avoiding process as it blands out the taste (often masking inferior ingredients) and has been reported to damage the nutritional benefits of chocolate.
Taste Tripper is a concept by Jennifer Earle who has run chocolate tours since 2005. Her London Chocolate Explorer packs include a curated chocolate map. Chocolate vouchers, a chocolate tasting wheel, tasting guides, a glossary and fun facts. They make ideal gifts. Jennfer's Chocolate Ecstasy tours on the other hand, guide you in person on a journey into chocolate taste.
Dom Ramsey has been a lifetime chocolate lover and has curated his chocolate blog chocablog since 2006. He makes bars for his company Damson in North London and has recently perfected a shaved chocolate craft drinking chocolate ideal for cafes.
Phil Landers runs Bethnal Green's Land. The bean-to-bar maker has his bars available to buy in cafes such as Lanark and The Common E2. His grated hot chocolate is on sale in Pavilion Bakery among other locations. Phil has made chocolate since 2012 and focusses on cacao from South and Central America, especially Nicaragua.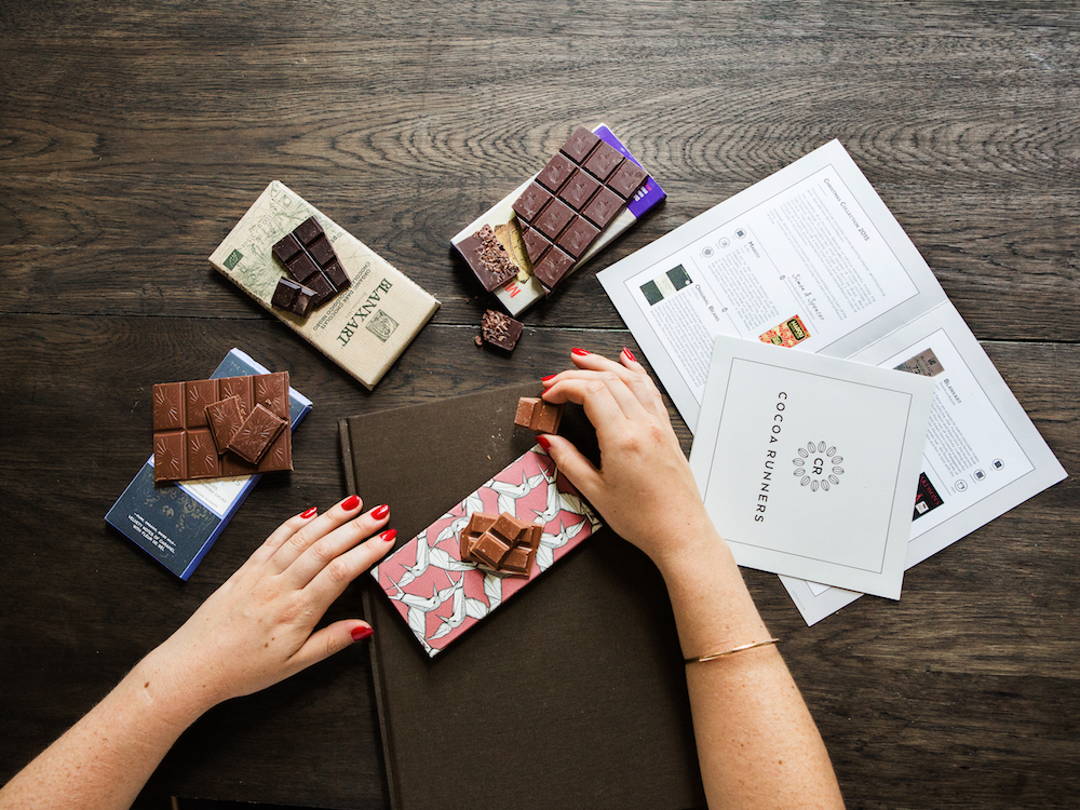 Ama  Uzowuru and Andy Clarke run Lucocoa. Their chocolate is different for using coconut sugar and lucuma (an Andean fruit). Now they have a hot chocolate available in Origin's cafes. Ama told us, "We had always wanted to create a bean to bar hot chocolate. When the wonderful Joshua Tarlo Head of Coffee and Retail from Origin Coffee spoke to us about having the same transparency we jumped at the chance to get this ball rolling on developing a hot chocolate."
"Origin Coffee were a great team to work with in this collaboration as they know exactly what flavours their customers are after. We wanted to get that balance but also bring in complex flavours which enhance the drink and take it up a few notches. We tested various options but our Haitian cacao gives the hot chocolate a malty, caramel, beautiful fig flavour."
As well as in Origin Coffee Roasters, you can find Lucocoa bars in Lundenwic, Daily Goods, Press Coffee and Bulldog Edition. Meanwhile, Suffolk based Pump Street chocolate are currently collaborating with Workshop coffee on a limited edition chocolate bar, combining Apolo II coffee from Jinotega in Nicaragua with Finca Tres Marias chocolate from Honduras. Another collaboration is planned soon.
Read more:
You can read part 1 and part 2 of Phil's chocolate odyssey on the site
Images courtesy of Cocoa Runners